Picture Frame plaques, acrylic on wood. 2 display options, either hang on wall or stand on a hard surface!
These 2 plaques are being donated to
Pinups for Pitbulls
to do with as they please. So keep an eye out for them maybe at an event sometime soon! An Auction perhaps? As I know more I will let you know!
Speaking of events... I have decided to be less of a hermit this year. (This may not mean much to you, if you don't know me... However let me assure you it IS a big deal!) Also being that I am in this year's 2011 Calendar as Miss October a bunch of these ventures will most likely include some sort of benefit/fundraiser for PFPB. I support many rescues, however I am honored to be part of such a great bunch of ladies!!!
For the 1st outing, I will be helping at the Pinups for Pitbulls booth at this year's Philadelphia Tattoo Convention on Sat & Sun (2/5 & 2/6) At the table, I will have some of the featured Art is the Pits Plaques for sale. Proceeds will be donated directly to Pinups for Pitbulls!!! There will also be some buttons and zipper pulls for sale!!!

The 2nd outing I have planned will be on the 19th of February at
The Note
in West Chester PA. The event is "A Second Chance at Love" a fundraiser to benefit Pinups for Pitbulls!
Here are the details!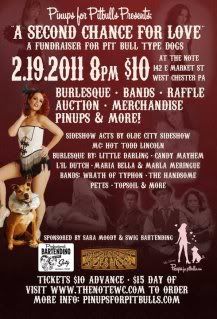 142 E Market St, West Chester, PA
Doors: 8pm Starts: 9pm
$10 adv/$15 day of show, 21+w/ID
Visit The Note website for tickets! http://thenotewc.com/
*Burlesque & Sideshow acts *Punk & Rockabilly Bands *Silent Auction * Raffle *Pinups for Pitbulls Merchandise & 2011 calendar *Pin Up Girls & more!
BURLESQUE BY:
Little Darling, PFPB Founder (Backhand Burlesque, PA)
L'il Dutch (Dutch Oven Burlesque, DC)
Maria Bella (Gilded Lily Burlesque, MD)
Candy Mayhem (Backhand Burlesque PA)
Marla Meringue ( Sticky Buns Burlesque, MD)
SIDESHOW BY: The Olde City Sideshow
www.oldecitysideshow.com
MC: Hot Todd Lincoln (DC)
BANDS:
Wrath of Typhon
The Handsome Petes www.myspace.com/thehandsomepetes
Top Soil www.topsoilpunks.com
The Gerunds
Sponsored by:
Swig Bartending and Events
www.swigbartending.com
To donate items for raffle or auction, email Events@pinupsforpitbulls.com
This has been such a great journey for me! Over the past year I have really been blessed to meet many wonderful people in the rescue world! While I feel I am not nearly as active as they may be, I feel I can do my small part here on the sidelines, creating art, sharing stories and donating much needed funds! I am really looking forward to what the next year has in store and I hope it's as rewarding! I intend to live a life full of positivity... There is no room in my world for the dramas than man can sew. &hearts