3"x5" Acrylic on wooden plaque.
Laila (formerly Sheba) came from the NY ACC. She was on the euth list for early december when a Lovely lady named Michelle was able to step up and pull her. At the time it was believed that the, then "Sheba" had recently given birth... and what a horror that she should go through the miracle of life only to be put down, due to over-population and lack of space, being about 4 years old and *gasp* because she is a pit-bull type dog. Thankfully she was saved from death row!!! Now fast forward to Christmas being spent in a loving home, how ever could Miss Laila show her gratitude you ask?!
Well.... the day after Christmas "Laila" had a little surprise of her own to share with the world.... She had actually not recently given birth she was pregnant and the day after christmas was her due date!!! Here is the update Michelle shared with everyone following this sweet pea's story:
"She didn't behave differently yesterday morning. she was reluctant to go outside (not unusual-- i think her previous captor kept her outside all the time so she is afraid of being left there.) also remember that ii was under the working assumption that she had puppies so the thought the she had buns in the oven didn't cross my mind. i had a hunch something was going on but couldn't put my finger on it.

i was running out early yesterday morning to stop in on clients and get home before the weather turned ugly. i woke up late and ran through my morning routine with everyone as quickly as possible. i cycled everyone into the yard, dished out breakfast and snacks and was ready to jet. i stopped to watch the weather report and when that was over and started to leave, i heard a squeal....

i thought it was Laila, that she had gotten hurt or something so i ran to check on her...and then...i saw...a blue body hanging out her mouth!! pink feet, toes stretched out! it was 6:30am, i thought, ok Laila, where did you get the rat from? then...she spit her out and started licking her...and i came to my senses...oh crap. THAT is a puppy. HER puppy.

i got into my car (because, when in shock, it is important to operate a motor vehicle as quickly as possible.) and drove to the gas station, dialing vet #1, left a message and called my girlfriend who had some experience with birthing mommas. i got some guidance from her and ultimately, my vet, and then FLEW to westchester to see my clients. by the time i had returned home, she had 4 more. the 5th one showed up within the hour and then the action stopped.

truly, she didn't need my overprotective butt around her at all. she likes having me around, loves the mash i've been making her. she eats 4 times a day and, i'm happy to say, as of tonight, all of the pups seem have have gained an average of 2 oz a piece. one of the boys is flirting with the one pound mark (he's the heaviest) and one of the girls is around 13oz (i think she's the smallest). they're all about the same size, eating well.

i can hardly believe they're here. they are very beautiful ..."
Laila had given birth to an amazing 6 beautiful babies... so what the people didn't realize that when they were fighting to save this love-bugs life, that in fact there were 7 on the line!!!!! Thank you to everyone who cross-posted her story to help bring this holiday miracle to fruition! &hearts
Click on her picture to see the original listing on the
Urgent Part 2's
facebook page: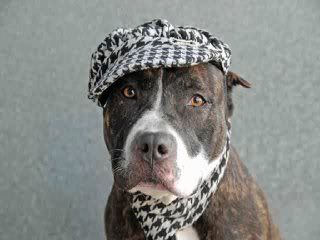 Proud yet tired momma: