3"x5" acrylic on wooden panel.
My mother, Gail, had recently manifested a dog into her life... Blue responded to her "calling"... She sent me the pet finder link and I was in love!!! How could you not be with those eyes and that face!!! When my mother inquired about Blue he was already in the foster care of a lovely lady in TN. Blue came to live with my mother via "The Last Chance Highway" and she fostered him until he was placed in his furever home today!!!
Here is Blue's story that was passed along to my mother from Diana, the original woman who saved Blue: (it was originally posted on their blog to help spread the word of his condition and needs.)
*******"Brave Blue, a 1-2 y/o pittie mix, was wandering along a highway in Mason, TN, early in the morning on May 18th, when his whole world turned upside down. He was hit by a car and left to die in the middle of the road minutes before a wonderful lady saw him in her lane and saw him lift his head. Another good Samaritan blocked ongoing traffic so that the lady could scoop him up and put him in her car.
Blue was in shock, covered with blood and fecal matter, but the nice lady who stopped to help him said, "I really felt the spirit telling me to rescue this dog before someone else hit him again." She rushed him back to Memphis to her vet near Wolfchase where the doctors provided initial exam, took X-rays, gave fluids, stapled a laceration, shaved his fur/cleaned several puncture wounds, and provided pain meds. They recommended, however, that she seek specialist medical care for possible surgery to left elbow and left hip.
She called Grace Rescue owner, Diana Moore, who promised to help and recommended that she take this brave boy to Shelby Center Hospital (where he was named Blue because one of his eyes is blue). X-rays also showed some swelling in the abdominal area and a little fluid in the lungs. Additionally, he did not have bladder control. In great pain, Blue continued on IV fluids and heavy pain meds for a couple of weeks and needed lots of personal assistance just to move from side to side so as not to develop bed sores.
Although his doctor hoped that manipulating Blue's hip and elbow back into place would prevent the need for surgery, it was not to be. Two weeks after the accident, successful surgery was performed on his hip and for the first time since his accident, Blue finally could stand and walk. Until then, all he could do was lie on the perforated floor of his hospital crate and potty on himself. Presently, his left elbow is manipulated back into place and the bandages are removed, but his doctor is monitoring that over the next couple of weeks. He's not out of the woods yet for additional surgery."*************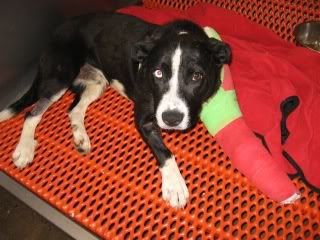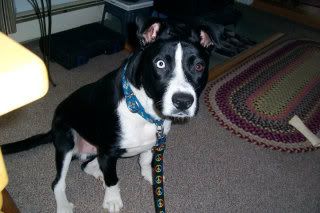 This picture will bring you to his original petfinder link: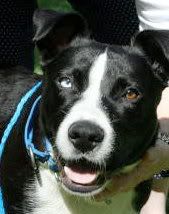 Thank you to
Lucky Pup Rescue
for helping Blue get a chance in a wonderful Furever home! &hearts