I'm taking a quick intermission before I start painting the Bully Ambassador #6... For a Quick Foster break:
3"x3" acrylic on wooden plaque.
Meet "Domino" or as we have been calling him "Lil'Dom" it's hard to train a dog that has "no" in his name... I had received an e-mail from
Bully Breed Rescue
on Sept 29th about a 4 month old puppy who's adoption had fallen through and incidentally was also losing his foster home. Attached was the sweetest little face I had seen that week: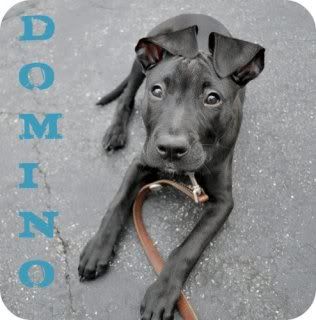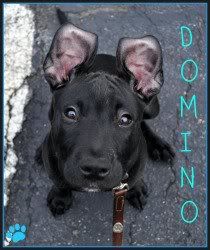 I forwarded the email to Brian. Basically it was a foster plea, a request to keep this little guy out of boarding. Apparently "Dom" has never been in a shelter, as he was found as a young stray in upstate NY and has been cared for since. When we brought him to our vet the Doc said that he was closer to 6 months since all his baby teeth were out.
Lil Dom has been quite fun with our two boys. I think Pikey will be really sad to see him go. However I feel very happy knowing that we are helping to prepare Dom for his furever home. There has been a few people interested and this saturday he is going on a meet and greet with a potential adopter. I am sending out positive thoughts that he will get along well with their resident pup!
Domino has nothing but love to give, he can be a bit playful at times but he's still a young pup. He gets along well with our dogs and our 2 cats. He is crate trained and about 90% house broken... Any accident he has had occurred while he was at the front door waiting to go out!
If you are interested in Domino and would like information feel free to contact Bully Breed rescue at:
bbr.fostercare@gmail.com
Click below to see other pictures of Domino: