3"x5" acrylic on wooden plaque.
You may recognize Hector from his unfortunate claim to fame as being one of the Vick dogs... That greusome past is now behind this Love-a-bull! Here is an excerpt from his facebook page:
*** "Hector was one of NFL quarterback Michael Vick's victims of cruelty as a fighting dog. The dogs were rescued and given a chance to live and Hector is now happy and living life to the fullest. He is a certified therapy dog." ***

Hector has been featured on the pages of
Parade magazine
as well as even being on the
CBS News
!
Hector is one of the amazing pups gracing the pages of the 2011
Pinups for Pitbulls
calendar!!! What a happy ending for this adorable dog!!!!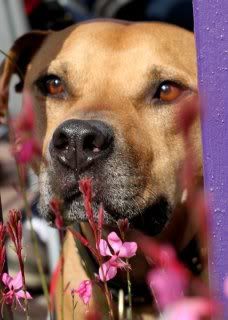 Photo credit: Melissa L.