3"x5" acrylic on wooden plaque. painted 9/10/10
When I first saw Lucien's picture by
Luv-a-Bulls rescue
... I almost cried. Who could possibly do this to an animal?!!! Let alone 3! Lucien's owners had moved out and left him and his 2 "siblings" to die... Starved to death... A good samaritan happened upon them and took them to the
Germantown Animal Health Center
in Ohio... Where through lots of prayers and Love, Lucien went from a barely 35lbs to now 56lbs!!! When I saw the plea for help I immediately chipped in some money towards his medical bills.... Unfortunately Lucien's story is not a unique one, many dogs suffer the same fate at the hands of cruel owners, however the difference is many go unsaved and simply perish.
Here is an email I had recieved from Luv-a-bulls after my initial donation:
"Thank you for helping Lucien. He is sill alive and our vet has been taking him home with her to make sure he knows hes not alone and doesnt give up!! He was starting to give up a few days ago and I think it saved his life being in a home. I am handing over 1000$ to our vet to use for whatever Lucien and his brother need that was donated today. (His brother is is skelton too but is eating and drinking..funny how those are GREAT things..normally Im worried abou Heartworm or cancer...but for these dogs Im jumping for joy they are eating and drinking on thier own!) I am in tears at how many people actually care about these poor pit bulls. Local media is trying to get a story but they ALWAYS put a bad spin on pit bulls so Im very hesitant in speaking to them on camera or in any way that hey can hurt the breed. Media scares me whenit comes to pits. I dont know if theyll talk to the vet and thats up to them but I have no inerest in talking to one of the main reasons why pit bulls are so misunderstood, you know.
Im going to write an update as things change.
Thank you so much for helping him!!!"
And here is the excerpt from his album on the facebook page:
"Lucian is a starved pitbull dog rescued from Dayton. He came to our clinic on 8/10/2010, weighing 33 lbs. He was very anemic and infested with fleas and hookworms. He could not stand on his own or even hold his head up. He has received a blood transfusion and other needed care from our clinc. We will continue to update his progress as we can."
Click Lucien's photos to go see other pictures and keep up on his story:
Lucien Then: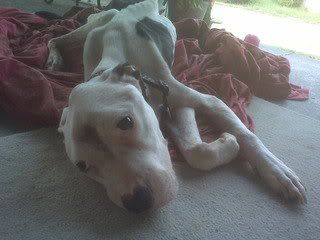 Lucien Now: