5"x5" Acrylic on Wooden Plaque. Painted 9/26/10
Carla Lou is the inspiration that spawned Pinups For Pitbulls... Little Darling adopted her in 1996 through
Chako.org
. Carla Lou was left for dead in a basement.
"Carla Lou has since been an example for Little Darling, teaching her how to be loving, warm, and full of hope despite bad circumstances, cruelty and ignorance."
(Quoted from the
PFPB founder page
) Please click the link to go read the whole story behind Little Darling and Carla Lou, founders of Pinups for Pitbulls.
The Mission Statement:
***"Pinups for Pit Bulls, Inc. works to educate the public about the history and temperament of the American Pit Bull Terrier and Bully Breeds, to raise awareness about Breed Specific Legislation and Breed-Specific abuse, and to raise funds for bully-breed-friendly rescues and dogs in need.

Our goal is to reestablish the defamed reputation of the Pit Bull as America's premier companion animal, war hero, and therapy dog."*****
Little Darling has also been a huge inspiration to me. I first met her last october. I was ordering my 2010 Calendar
(PRE-ORDER YOUR 2011 PFPB Calendar today!!!)
and noticed the donations tab. I sent them a quick note wondering if they could use some of my hair clips for donations... The Pit Bull Awareness day event was right around the corner, and they'd love to have some! Also We had a mutual friend and decided to meet and grab lunch in New Hope... Where turns out my husband had worked with Little Darling along time ago at a small deli in princeton!!! SMALL WORLD! Let me state here that while I knew that dogs were always up for adoption/rescue... I really had no idea about why the rescue world is so important... Neither one of my dogs have had a tragic starts and they were not rescued, (Much to the dismay of said mutual friend), We love them just the same and do feel that we rescued them from any life they may have had that wasn't involved in ours! However in the past year of getting a little involved on the sidelines, sending various donations and chipping in where I can, using my art towards good... I have learned the harsh and cruel reality that many of these dogs go through and why it is so important to foster or rescue a pup in need. My dog of choice just so happens to be a Pit Bull. Brian and I plan to foster our first bully in need sometime after thanksgiving, for now we are sponsoring him from afar. (See
LUKE
and help us help him get adopted to a furever home)
The reason for this long winded side story about me is, I wouldn't be doing what I am doing with this project today without Little Darling, and in turn without Carla Lou. They truly are Ambassadors and spark inspiration in anyone they come into contact with! I love those ladies!
Also please come out and join us for the
2010 Pitbull Awareness Day & 2011 Calendar Release Party
when: 10/23/10
Where:
Shampoo Nightclub
650 Willow Street (between 7th and 8th) - or the 8th Street subway station
Philadelphia, PA
Daytime: 1 - 4 pm all ages: Adopt-a-bulls, keynote speakers, vendors, and rescues. Dogs who enjoy meeting new friends welcome!
Evening 8 p- 2 a, 21+ w/ ID -- Special appearance by Shorty Rossi of Pit Boss, with acts by Olde City Sideshow, and Burlesque by Little Darling , Candy Mayhem & more! 
To donate items for the raffle and silent auction, Email events@pinupsforpitbulls.com, subject PBA DAY
click the picture below to go check out the Pinups for Pitbulls website: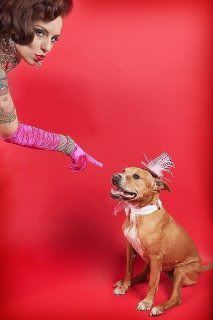 also become a fan on
FACEBOOK
and follow on
TWITTER