6"x4" acrylic on wooden plaque. painted 9/24/10
I briefly met "Sarge Wolf-Stringer" last october at the
Pinups for Pitbulls,
Pitbull Awarness day... I saw this very tall man carrying one of the most unique PitBulls I'd ever seen. The Dog wore an awesome army green coat... it was a little later in the day that I learned this dog was "Sarge" an "Elderbull" being that he's celebrating 16 years this month!! Happy Birthday Sarge!
Sarge is truly a breed ambassador, he spent the first 14 years of his life with an animal abuser in Philadelphia... he has many scars from his old life, but they are only skin deep! In sept 2008 he was rescued along with 30+ other dogs. In Feb of 2009 Sarge was adopted by his new mom and dad. Sarge is a certified "Pals for Life" therapy dog, he visits nursing homes, rehab centers, libraries etc...
Sarge embodies a story of success, having been through so much and being so wonderful....
Here's a picture of him from the 2010
Barking Beauty Pageant
click on the picture to go read more about truly unique dog!!!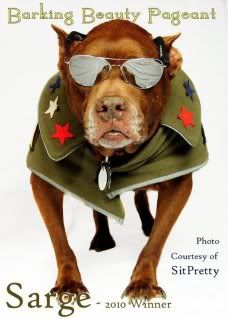 Photo Courtesy of:
Sit Pretty