5"x5" acrylic on wooden panel. painted 9/22/10
I bet this boy is a goof in real life! Look at his face! It makes me giggle!
I first saw "Roy" on the
Bruised not Broken
fanpage apparently I am not the first to paint this lovely boy... I almost didn't because of this but that smile beckoned me! Here is an excerpt from his album:
*** "CHECK OUT ROY!! This ADORABLE, SMILEY red-nose pittie is in urgent need of either a FOSTER OR FOREVER home, as his current foster situation is not ideal (cramped conditions, lots of crate time, etc.) ROY was saved from Death Row by the incredible rescue group, DakodaLove, but NOW REALLY NEEDS OUR HELP! He is SUCH AN OUTSTANDING DOG! Roy is about 1.5 years old, neutered, up to date on all his shots, HOUSETRAINED, GREAT WITH PEOPLE/DOGS, loooooves to play and snuggle...just a fabulous boy! And a REALLY COOL fact about Roy is that his portrait is hanging in Shorti Rossi's home (from the show "Pit Boss" on Animal Planet)!! Does that sort of make Roy a celebrity? Maybe a little? ;)
If interested in fostering/adopting this AMAZINGLY SWEET dog and would like to fill out an application, please send an email to Cristina at: dakodalove@gmail.com "****
click below to go see other pictures of this silly guy!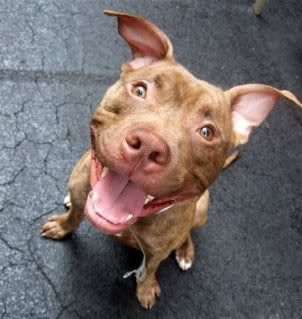 Photo: Cristina Pronzati Photography©